Many customers want to reduce the risk of cargo loss and asset damage, saving time on searching and dispatching containers. Then why not have a look at our TK20SSE GPS container tracking?
Metal plate to mount outside firmly and IPX7 waterproof
As most containers are metal, which makes it very difficult for the traditional GPS trackers to get a good signal reception. But no worry, our GPS trackers have a metal plate which you could mount it outside the container to keep good signal. What's more, IPX7 waterproof, it could work in the open environment.
Real time tracking remotely
With web platform, APP & SMS messages, gaining security and peace of mind by knowing where your assets are at all times, even in remote locations.
Rapidly respond to theft
Motion alert, when the containers are kept in the depot,
When there's unauthorized movement and GEO-fence boundary exiting, it will send you the SMS/call alert. Keep your assets in safe.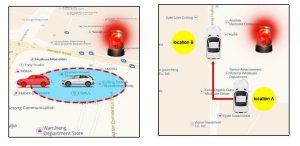 Long working time
With 20000mah super large rechargeable battery as well as built-in solar panel, which conversion rate is 18%.
if 6 locations upload per day, the rest time in deep sleep mode, it could work for about 800 days.
Improve fleet management
Use real-time GPS tracking and GEO-fences to monitor containers during the whole transportation.
OEM ODM, pls contact: sales@vjoycar.com